March 1, 2019
Flooring is available in a multitude of shapes, sizes, colors and durability. When it comes to moisture-prone areas, such as kitchens and baths, it's important to select a style that will hold up to splashes, spills and repeated cleaning.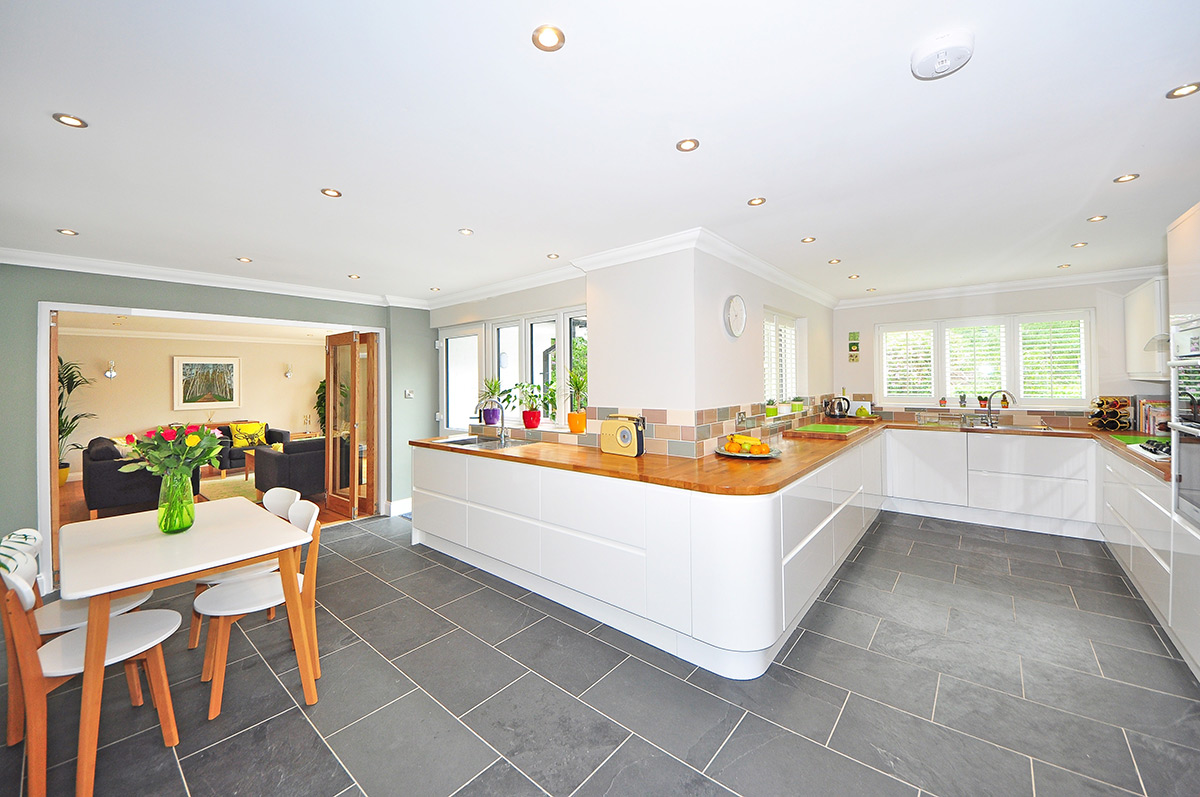 Modern kitchen with lovely, grey tile floor
Tile
Tile comes in lots of materials. Three of the most common are ceramic, porcelain and natural stone. Ceramic and porcelain are better suited for wet areas than natural stone, as they don't allow moisture to penetrate as easily. Natural stone should be sealed to make it more water-resistant.
Upkeep for tile floors is relatively minimal. Keep an eye on the grout lines. Over time, they may need to be resealed to keep any dampness from getting through.
Pros:
Lots of styles to choose from
Wide range of prices to fit any budget
Easy to clean
Adds to resale value of home
Cons:
May need to be sealed to be completely waterproof
Expensive to install
Often slippery when wet
Not comfortable to stand on for long periods of time
Vinyl flooring is soft underfoot and easy to install
Luxury Vinyl
Vinyl has come a long way from the peel and stick tiles of the past. New luxury vinyl is extremely durable, can mimic the look of stone or wood and, best of all, is completely waterproof! Many higher-end options come with felt or foam backing, making them particularly soft underfoot.
Vinyl flooring has a wear layer on top to protect it from dings and scratches, which means it holds up very well to high-traffic areas, such as kitchens.
Pros:
Waterproof (some models may have mold and mildew inhibitors, as well)
Inexpensive to install
Soft underfoot
Easy to clean and maintain
Cons:
Not many style choices for lower-end models
Does not add to resale value of home
May wear out after 15-20 years