May 3, 2019
Color psychology is the scientific study of how color affects mood, behavior and emotional responses. This plays a big role when choosing what shade to paint a room. Knowing ahead of time what feelings a particular hue may evoke is just as important as choosing appropriate decor. Below, we've outlined some of the most popular color choices found in modern homes.
Red is great for rooms where socializing is key.
Red
Red is known to raise the heart rate and boost adrenaline levels. On one level, it's linked to passion and romance. Others feel it invokes feelings of rage and hostility. Either way, red is not for the faint of heart. Use red in rooms designated for socializing, such as living rooms and dining rooms, to spark lively conversation.
Use In:
Living rooms
Dining rooms
Areas designated for socializing
Orange stimulates the senses and mind.
Orange
Orange is a warm, happy color, associated with excitement and enthusiasm. Due to its energy-evoking tendencies, it's a good choice for a workout room or attention-grabbing accent wall. It has also been known to stimulate appetite, making it great for dining rooms and kitchens.
Use In:
Dining rooms
Workout rooms
Kitchens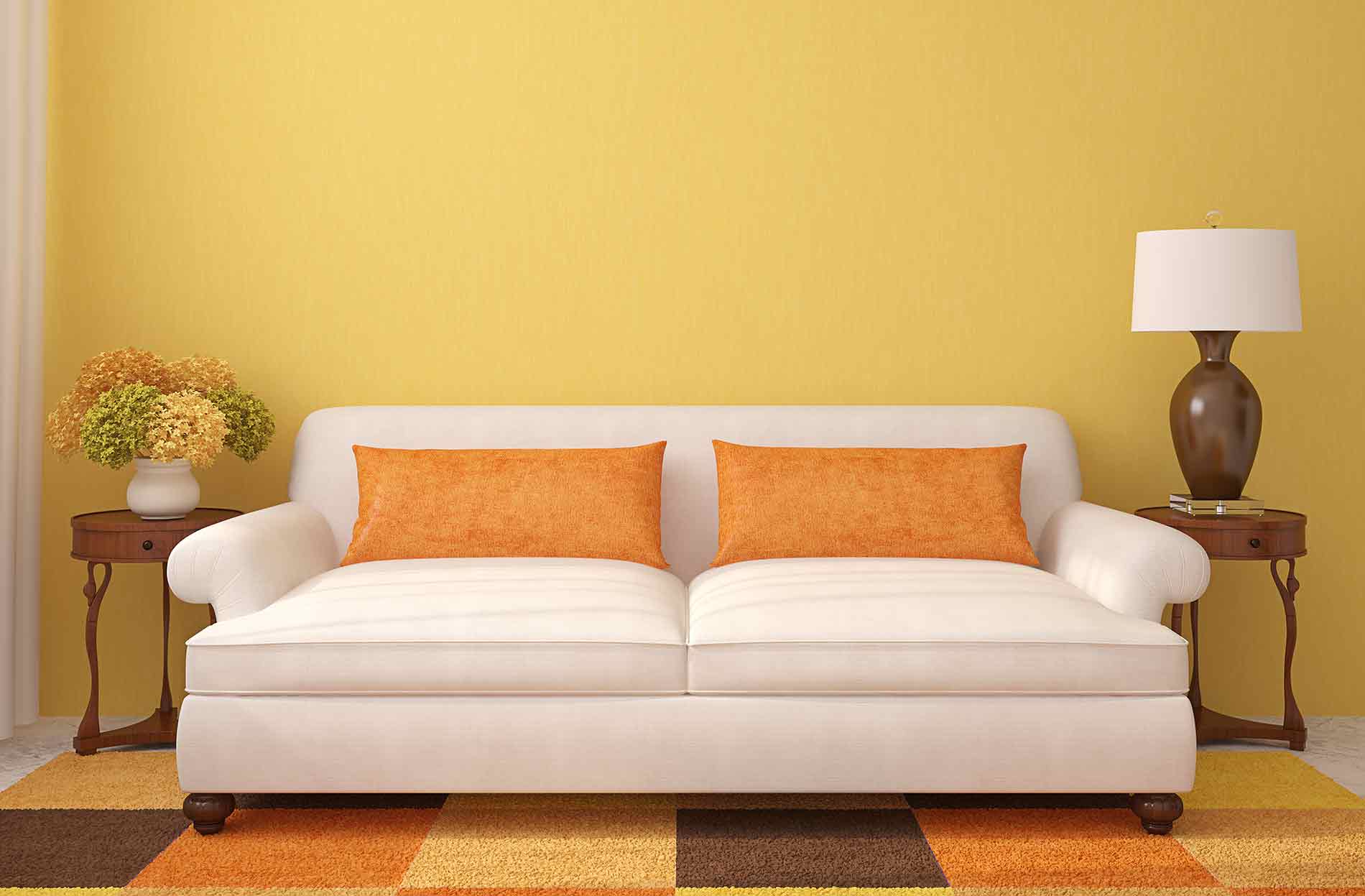 Yellow is a very happy, welcoming color.
Yellow
The color of sunshine, yellow is warm, welcoming and cheerful. Super bright yellows have been known to evoke feelings of anxiety and restlessness, so stick with soft, buttery shades. Due to its uplifting nature, yellow works really well in kitchens and bathrooms. Its welcoming feel also makes it a good choice for entryways.
Use In:
Kitchens
Bathrooms
Entryways
Green promotes relaxation and restful emotions.
Green
With its abundance in nature, it's no surprise green is associated with growth, renewal and prosperity. Due to its calming ability, green often is considered the most restful color to the eye. It can be used in almost any room, however it's most effective in those where relaxation is key.
Use In:
Bedrooms
Living rooms
Offices
Blue's calming nature makes it great for bedrooms.
Blue
Blue is a calming, relaxing color. It often evokes feelings of freshness and serenity, the same emotions experienced when looking at the tranquil water of a lake or staring up at a cloudless sky. Lighter shades of blue have been known to decrease heart rate and slow down respiration. Darker shades may be associated with sadness and, therefore, should be used sparingly.
Use In:
Bedrooms
Bathrooms
Offices
Purple often helps to foster creativity.
Purple
Purple has long been associated with royalty, wealth and creativity. Darker shades, such as eggplant, evoke a sense of sophistication and are great for formal living and dining rooms. Cheery and calming lighter shades are perfect for bedrooms, offices and art studios.
Use In:
Living rooms
Dining rooms
Bedrooms
Offices
Pink helps to reduce stress.
Pink
Even though it's close to red on the color wheel, pink has the exact opposite effect. Pink is very calming. It has been known to relieve feelings of stress, anger and hostility. Bright, vivid tones come with an air of sophistication and glamor, making them great for fancy dining rooms. Lighter shades are more soothing and are perfect for bedrooms and bathrooms.
Use In:
Bedrooms
Bathrooms
Dining rooms
White can make any space feel larger.
White
White has the ability to make spaces feel larger. Entire rooms painted white may come off as sterile or bland, similar to a doctor's office. Other than that, white doesn't invoke much in the way of emotion, making it a good neutral accent to use in a variety of areas.
Use In:
Small rooms made to feel larger
Accents
Ceilings