March 29, 2019
Window boxes never go out of style and are a wonderful way to add curb appeal to any home or apartment. Below are a few basic tips to achieve beautiful flower boxes, overflowing with healthy greenery.
Good soil is the foundation of any successful window box
Soil
Start Fresh
Nutrients in window box soil get depleted quickly. Give plants the best chance for growing big and strong by starting with fresh dirt each year. Don't waste the old stuff, though. Scatter it in a flowerbed or over the lawn.
Water-Storing Crystals
Window boxes in direct sun dry out quickly and require a lot of water. Mix some water-storing crystals into the soil to help keep everything moist. The crystals absorb water in a gel-like form and release it slowly to regulate dampness.
Compaction
Build strong roots by keeping the soil friable with the addition of vermiculite or perlite. Vermiculite has a major benefit of reacting with soil compounds to make nutrients, such as calcium, magnesium and potassium available to plants. Furthermore, it can absorb 3-4 times its volume in water and hold on to it until the soil begins to dry out, making it great for moisture-loving plants.
Perlite is often mistaken for little balls of styrofoam. It doesn't have the same moisture-retention properties as vermiculite. This makes it much better suited for shadier window boxes and plants which like well-drained soil.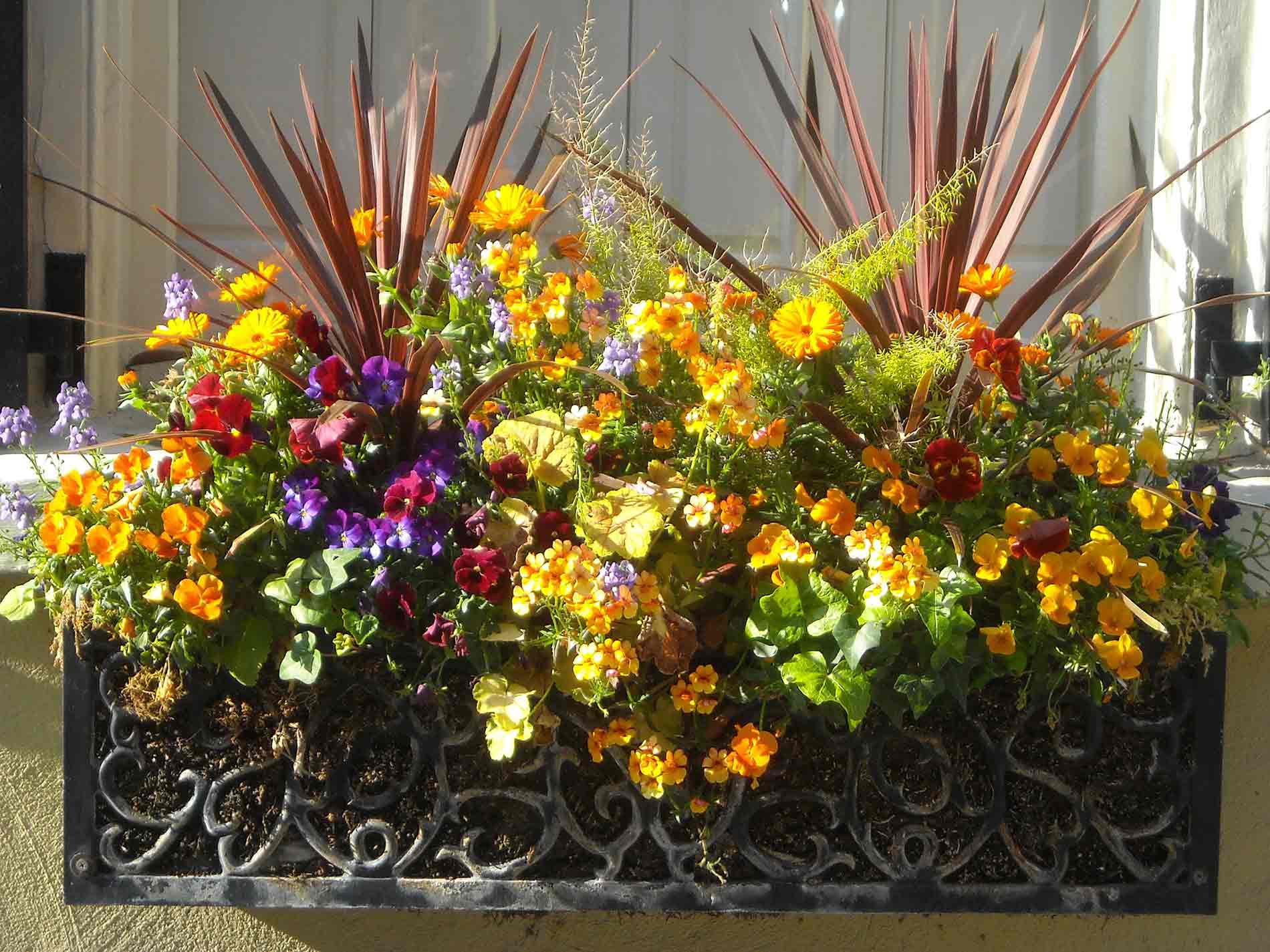 Grasses make a great backdrop for smaller flowers up front
Plants
Sunlight
The amount of sun a window box receives every day is a crucial component when it comes to selecting plants. For bright locations, choose sun-loving varieties, such as geraniums, verbena and marigolds. Plants such as fuchsia, impatiens and begonias would be at home in a shadier box.
Backdrop
Create a lush, green backdrop for brightly-colored flowers. Add ornamental grasses or miniature evergreens toward the back of the box. Let vining varieties, such as sweet potato vine or ivy, spill over the edges to balance things out.
Quantity
Skimpy-looking window boxes don't have the same impact as those bursting with greenery and color. Fill the box to the top with a variety of closely-spaced plants. With so many flowers and shrubs in one place, be sure to fertilize regularly to keep everything growing.
Wood provides more insulation than plastic or composite window boxes
The Box
Go for Wood
A new coat of paint can keep wooden boxes looking brand new year after year. Wood also is more insulating than plastic or other composite materials. This keeps delicate plant roots from getting too cold on chilly spring nights or overheating when exposed to summer rays.
Use Liners
Plastic liners will keep the box from rotting or warping over time. Just be sure to place something in the bottom, such as pea gravel, styrofoam or empty plastic water bottles, to prevent plants from getting root rot.
Proper Drainage
Waterlogged plants aren't happy plants. Avoid a slew of issues by ensuring boxes have proper drainage. If buying new, select boxes with pre-made drainage holes. Use a drill with a paddle bit to add a few holes to the bottom of existing wooden structures.